"I like a copy of "The Band's Summer" very much
Love is all the reasons and answers
"In a society in which there is an overflowing desire
Whatever you do, you weigh the pros and cons
And just forget the most essential love and the purest simplicity
The happiest thing in the world
It's probably the ability to do what you like without fear
Strive for the ideal, and you're doing it!"
On July 24, 2021, New York time, Sichuan Yier Image Culture Communication Co., Ltd. (referred to as One Two Culture Media) landed on the Nasdaq big screen in Times Square, New York,

Thomson Reuters big screen. New York City is the largest city in the United States. In addition to Washington, the capital of the United States, New York City, as the largest economic, trade and financial center in the United States, is the most well-known city. Many international companies in the world are headquartered in New York City, and various economies in the world have close ties with New York City in the United States. Through this, it also gave birth to many suitable places for home tourism and a variety of scenic spots and buildings. Times Square is the best place to reflect New York City's bustle. Some people say that going to the United States is like never going to the United States if you don't go to Times Square. Times Square, the landmark of New York City, is always full of people, and despite the fact that New York has no shortage of other interesting places, Times Square is always full of tourists, and in Times Square there are often cartoon characters who walk down the road and invite you to take pictures. There are thousands of stores, and no matter what type or aspect of location you like, you can find your favorite place to play in Times Square.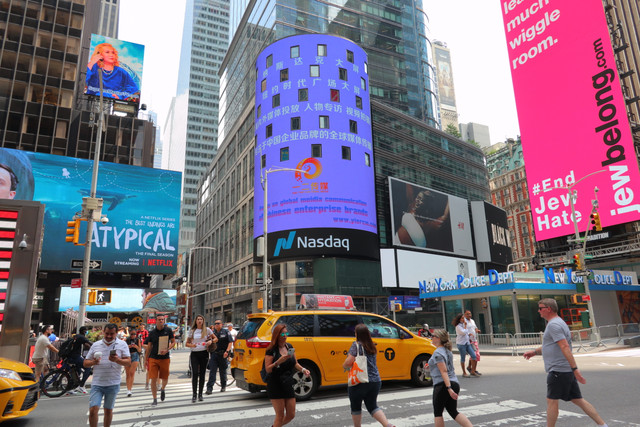 NASDAQ Big Screen
Among the many promotional pages, one is famous for the Nasdaq logo and stock market watch outside the four Nasdaq exchanges in Times Square. The production screen, which used $37 million, was unveiled in January 2000. The screen is 36.6 meters high. It costs Nasdaq at least $2 million a year to rent the location alone. In the advertising market this is actually a favorable price, because advertising "appears" far more than other types of advertising can achieve.
The busy Times Square, semi-cylindrical NASDAQ giant screen advertising, constantly changing the black, blue and red cold and hot faces. And it seems to be a sign that the world's financial center's stock market is unfathomable! The commercial finance breath of advertisement and high-tech art means get perfect unification here.
Reuters Screen
Thomson Reuters advertising screen is a landmark electronic screen in Times Square, close to the Nasdaq advertising screen, can reach the entire Times Square perspective. Thomson Reuters, or Reuters screen, is New York Reuters's entire building advertising, it can be said that the eye-sucking index is as big as Nasdaq screen; it's on the opposite side of the world's largest screen Nasdaq screen, before 2016, advertisers advertising on the Reuters screen can only be four screens and can only be the form of copy pictures. Starting in 2017, Reuters screen can be displayed in the form of text and video, from the original 4 to 7 to now 11 screens, and it can be said to show the perfect effect. In addition to NASDAQ screen, Reuters screen is more popular with advertisers, it now has 11 advertising screens at different sizes, customers can design different advertising contents aiming at different advertising screen sizes, playing simultaneously, so that your advertising contents catch eyes in a short time, resulting in the greatest visual impact and excellent effect of advertising.
Nasdaq Big Screen

Thomson Reuters Screen
Some customers are confused on which screen effect is good, actually two can synchronize, Nasdaq is displayed in a whole screen, and Reuters screen is composed of a lot of pieces, if 12 pieces together give people more transmission strength besides a sense of wide angle; of course, it is related to the budget, double-screen rolling effect is better and more intuitive, one day costs spent on some outdoor advertising domestic can be equal to the costs spent on the big screen in New York Times Square, and this is the real reason to attract advertisers!
One Two Culture Media (yiercm.com) will provide better resources for enterprises and individuals in need according to different nodes every month; in order to meet the needs of different advertisers, in addition to Reuters screen and Nasdaq big screen, we have also launched giant screen of Fox screen (Xinhua News Agency screen), etc. Everyone has their own unique vision and appreciation level, and only constantly developing better quality resources can we meet more advertisers; One Two Culture Media is professional to engage in the big screen media in Times Square, New York. Decades of deep cultivation and development have brought great brand benefits to countless advertisers in China. In recent years, enterprises looking for One Two Culture Media to launch advertising involve all walks of life. One Two Culture Media (yiercm.com) has always promised to enterprises that need the big screen of Times Square in New York: Boarding on the big screen of Times Square in New York once got a global spread! This is not really a slogan, finding One Two Culture Media to broad on big screen in New York's Times Square can exceed more than 400 European and American media coverage, including a series of internationally renowned media, and also you can choose to board on the Associated Press, Reuters, Nasdaq's official websites.
One Two Culture Media is committed to continuous product innovation, to expand information flow, and to achieve perfect advertising business as far as possible, it progresses every year according to the Internet information age changes, and it is always in the forefront of the same industry and always maintains a new life vitality. In the next step, it should continue to take advantage of the opportunities brought by the Internet, serve brand customers well, customize promotion schemes for more advertising companies, make the domestic enterprises act on international convention as much as possible, play their own brand appeals, build a better reputation, influence the world with their own brands, which is the ultimate goal of the promotion for enterprises. In the future, more and more Chinese brands will go to international media advertising, said John, manager for Public Relations of the International Department of One Two Culture Media.
Disclaimer: The views, suggestions, and opinions expressed here are the sole responsibility of the experts. No Open Headline journalist was involved in the writing and production of this article.